Peel CAS, Community Family Services of Ontario and the Newcomer Centre of Peel are proud to launch a new collaborative service model for Southeast and East Asian (SEEA) families in our community!
Together our SEEA Wraparound Service Response aims to address the unique needs of the Southeast and East Asian community, as well as clarify any misconceptions the community may have regarding our services.
This new wraparound model will help our clients of Asian descent access culturally competent resources while supporting families who are navigating multiple service systems. Through various focus groups and surveys, we were able to learn more about the specific needs of Asian families while also developing training opportunities for our staff.
Elements of the SEEA Wraparound Service Response includes: culturally competent parenting and informal networking support; cooperative assistance with settlement, employment, and education services; and facilitating mental health service support through community partnerships. Download our SEEA brochure to learn more.
Many thanks to the 120 attendees and 25 community agencies that joined us for our service launch on June 15, 2022, we are so grateful for your steadfast support! The event featured performances from the Kaleidoscope Chinese Performing Arts Society and Roa Lee on the Gayageum. We would also like to extend our appreciation to our keynote speakers Anna Wong (Executive Director at CFSO), Beiyi Dai (Settlement Worker in Schools) and Chinese Community Leader Nelly Gong.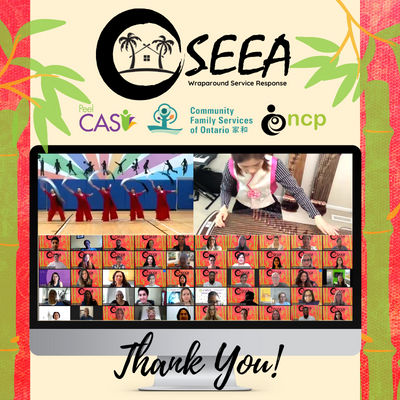 Kindred SEEA
Kindred SEEA (Southeast and East Asia) is an internal ethno-cultural committee comprised of Peel CAS staff of Southeast and East Asian descent as well as staff who connect with and appreciate Asian cultures. This committee includes members of diverse Asian backgrounds that incorporate Chinese, Korean, Filipino, and Vietnamese cultures. Its goal is to educate Peel CAS staff about diversity within the Asian community, and to build awareness about the similarities and differences in traditions and practices.